The famous Japanese phrase "sanshi suimei" describes Kyoto's scenic beauty; it is a uniquely Japanese phrase which simultaneously expresses the beauty of the Higashiyama Mountains when they take on a purplish hue and of the Kamogawa's pure, clear water. FUNATSURU is where you can see the scenery embodying this phrase. Here you can enjoy Kyoto's many faces throughout the four seasons, including cherry blossoms in spring, cool riverside dinners and fire festivals in summer, and splendid autumn foliage. Encounters with exquisitely dressed geisha are hardly rare. FUNATSURU, a vestige of Kyoto's past, lays just a five-minute taxi ride away from JR Kyoto Station. It is located in the heart of Kyoto, where numerous shrines and temples dot the area.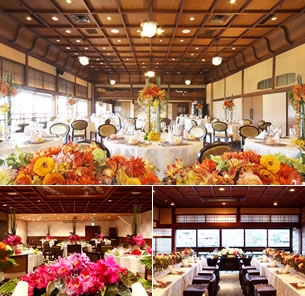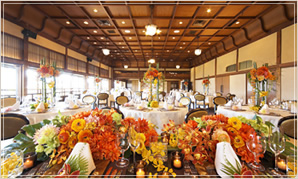 With an area of 315.3㎡ and a ceiling of 4.9 meters, this is FUNATSURU's main banquet hall. A commanding view of Higashiyama and the World Heritage Site of Kiyomizu-dera is available from its windows facing east towards the Kamogawa. Two screens are also available for use to partition areas as needed.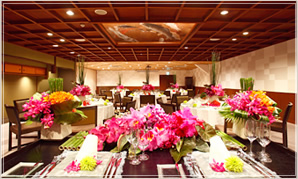 The Gallery Room is an artistic banquet hall with a ceiling painting drawn on a single sheet of Japanese cedar over a traditional Japanese coffered ceiling. Drawn by Taiun Omura (1883-1938), it is a famous painting of seven carps swimming in the Kamogawa. It also has purely Japanese installations such as toko-no-ma (alcove room) and kazari-dana (display shelf), which can be organized and decorated to your liking.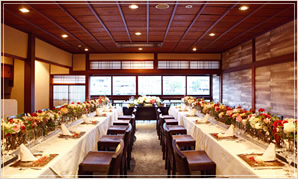 Perfect for smaller party of up to 32 people. A small and lavish banquet room where the Japanese-paper walls and interior design choreograph a sense of luxury. The room layout can be changed at will to accommodate a variety of purposes and any number of guests along with a choice of round or square tables.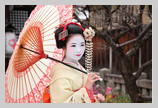 Kyo-mai, a traditional dance performed in Kyoto by geisha

Invite geisha or geisha apprentices, called maiko, to view their renowned Kyo-mai, a Japanese dance performed in Kyoto as one of its traditional arts. After enjoying the beautiful collaboration between dance and the purely Japanese architecture, have some time to take photographs together with the geisha.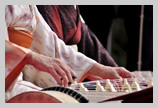 Live performance of Koto and other Japanese musical instruments

Why not enjoy a traditional Japanese musical performance as background music to your party? The harmonious melody of the koto, bamboo flute, and shamisen are sure to give any gathering an authentic Oriental mood.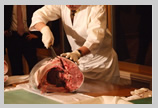 Tuna Dissection Show

Recommended for a stunning and shocking production. A craftsman will dissect a whole tuna to the tune of lively music right before your eyes. Enjoy the brilliant cutting performance, fresh sashimi, and professionally handcrafted sushi.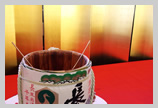 Kagami-wari

A traditional Japanese toasting ceremony in which a traditionally-shaped barrel containing world-famous Japanese sake is broken open with wooden mallets. As there is enough sake in the barrel for everyone to enjoy, it is sure to be a great way to proclaim the opening to a party.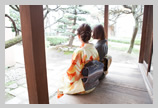 Kimono party

Why not try on the kimono, Japan's traditional clothing, for a fun party idea? FUNATSURU can introduce kimono shops where guests can rent kimonos of choice; we can assist in dressing, so guests need not prepare anything.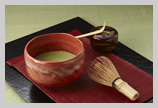 Tea Ceremony

Tea ceremony, cha-no-yu or sadō in Japanese, is a world-class composite art and the pride of Japan. In a tea room in the corner of the banquet hall, a tea master will prepare tea for each person of the party. You may choose between matcha, powdered green tea, and ryokucha, green tea.

Postcode600-8015
180 Minoyacho,
Kiyamachidouri Matsubara-Agaru, Shimogyo-ku, Kyoto
Business hours
12:00〜22:00
Fixed holiday:Tuesday