The famous Japanese phrase "sanshi suimei" describes Kyoto's scenic beauty; it is a uniquely Japanese phrase which simultaneously expresses the beauty of the Higashiyama Mountains when they take on a purplish hue and of the Kamogawa's pure, clear water. FUNATSURU is where you can see the scenery embodying this phrase. Here you can enjoy Kyoto's many faces throughout the four seasons, including cherry blossoms in spring, cool riverside dinners and fire festivals in summer, and splendid autumn foliage. Encounters with exquisitely dressed geisha are hardly rare. FUNATSURU, a vestige of Kyoto's past, lays just a five-minute taxi ride away from JR Kyoto Station. It is located in the heart of Kyoto, where numerous shrines and temples dot the area.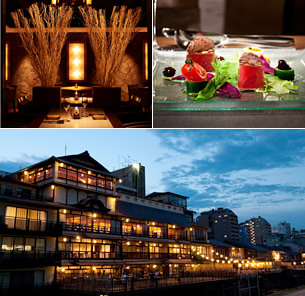 It is a longstanding tradition in Kyoto to install restaurants over the river during the summer months to enjoy dining outdoors while finding relief from the summer heat. Kawadoko is the term for this Kyoto seasonal tradition, and each year a large number of tourists visit expressly for this tradition. Enjoy special French cuisine at FUNATSURU's kawadoko, held every day from May 1-September 30.


Kunikazu Nakayama built his career during his ten-year stint in France at three-star restaurants Maxim's de Paris, Hotel Concorde, and Maison Troisgros. He has won a domestic French cuisine competition and has been the recipient of among many other awards. He has also won the gold in the "Mayor of Paris Award" for his "Seafood gelée -Sunflower-". He currently serves as executive chef for FUNATSURU Kyoto Kamogawa Resort, the Hillside Rokko Yamanote, River Suite Osaka, and Brides House.
| | |
| --- | --- |
| 1963 | Graduates TEC Tsuji H & R Technical College |
| 1969 | Travels to France and works at Eiffel Tower restaurant, Maxim's de Paris, Hotel Concorde, and Maison Troisgros, among others |
| 1974 | Wins Gold at Arpajon's National Competition |
| 1975 | Wins Gold at Arpajon's National Competition |
| 1976 | Wins Gold at Arpajon's National Competition/Receives gold in the "Mayor of Paris Award" |
| 1978 | Wins gold at First France International Culinary Competition/Wins gold at the Luxembourg International Competition |
| 1979 | Appointed as Head Chef of French cuisine at TEC Tsuji H & R Technical College |
| 1983 | Becomes director of development department at Rock Field Co., Ltd. |
| 1987 | Opens restaurant "Palmes d'Or" |
| 1997 | Opens restaurant "TuTu" |
| 2007 | Appointed executive chef of Obtenir Group |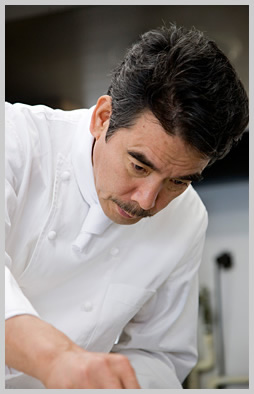 Business Hours

Lunch (Weekdays only): 12:00-14:00 (Last order) Dinner: 18:00-22:00 (Last order)
Closed: Tuesdays

Postcode600-8015
180 Minoyacho,
Kiyamachidouri Matsubara-Agaru, Shimogyo-ku, Kyoto
Business hours
12:00〜22:00
Fixed holiday:Tuesday